BED BUG LIFE CYCLES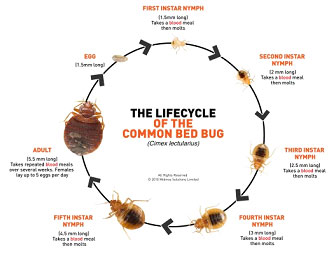 DEVELOPMENT
A bed bug develops through five immature stages called nymphs or instars, before reaching the adult reproduction stage. The time for development from first nymph to adult varies according to temperature, blood meals and conditions. During this developmental growth period, they shed their skin (or molt) as they grow to the next stage. This development process from egg to adult can take place in approximately 24 to 36 days.
Each stage, from nymph to adult, has to take at least one blood meal in order to continue through the next successive stage to the adult bed bug. [Nymphs take blood meal(s), digestion occurs, time passes and the bed bug grows and must molt or shed its skin.] This cycle continues through 5 immature nymph stages. Large populations of bed bugs take time to develop, but if a few adults are not detected early, you could well have thousands after 3 or 4 months! In most bed bug literature you will find that adult bed bugs have been reported to have the remarkable ability to persist and survive from 4 months to 2 years depending on regular access to blood meals and favorable temperatures.
EGGS
A female bed bug can lay a few hundred eggs in her lifetime of many months to around a year, but these are not deposited at one time and regular feeding and mating are required. These eggs are attached to surfaces by a sticky substance and can be difficult to see. Depending on temperature and conditions, these eggs can hatch anywhere from three [3] to ten [10] days or longer. When first hatched, the immature bed bug (nymph) is translucent, pearl whitish in color and become slightly darker as they reach maturity. Although the young nymph isn't always easy to see, after a nymph feeds it will become plump and red because the blood inside shows through their pale skin.
BLOODMEALS
Depending on their feeding status, bed bugs look very different. An unfed bed bug looks more like a flat disk but when after taking a blood meal they increase in size to approximately 3 to 4 times that of their original size. Fully fed, the bed bug takes on the shape of a torpedo with an elongated trunk bright in color. As digestion progresses the bed bug darkens in color and flattens out until the next blood meal.
If you have concerns and want a Free Home Inspection contact Lady Bug Pest Control Specialists for a Free Home Inspection for Termites, Eco-Friendly Pest Control, Home Seal Service, Bed Bug Eco-Heat, and Rodent Control. We perform Complete Home Inspections at no charge. Please feel free to contact Lady Bug Pest Control Specialists to answer any questions or for a FREE Inspection. 480-833-1111.
Lady Bug Locations: Lady Bug Eco-Friendly Pest Control provides service Valley Wide including Mesa, Tempe, Scottsdale, Paradise Valley, Phoenix, Cave Creek, Care Free, Fountain Hills, Gilbert, Chandler, Queen Creek, San Tan, Sun City, Peoria, Buckeye, Avondale, Good Year, Glendale, Surprise, Apache Junction, Gold Canyon, Anthem, Ahwatukee, and El Mirage.

Free Bed Bug Inspections