BED BUG HIDING HABITS
As their name implies, bed bugs are commonly associated with areas where we sleep but may spread to adjacent rooms. Bed bugs are drawn to humans by the CO2 we expel while breathing and warmth. Like vampires in the night, these insects normally lay dormant during daylight hours in small cracks and crevices and come out at night to feed on blood but will change their habit according to their hosts work hours and lifestyle. Peak activity usually occurs from midnight to 7:00 A.M. Bed bugs only stay long enough to feed before moving away to hide. Bed bugs usually move via hitchhiking and often hide within 15 feet of bedding areas but can move more than 100 feet to obtain a blood meal. Bed bugs cannot jump or fly, so they infest homes by being transported in clothing, backpacks, suitcases, mattresses, or other furniture and items.
Bed bugs are sloppy housekeepers leaving telltale signs where ever they are present and where ever they go. They sometimes congregate in colonies, excrete liquid fecal matter (old Blood meal) and molt where ever they please. During moderate and high infestations you will find all of these telltale signs including a sweet musty smell.
Bed bugs can live in the seams of mattresses, bed frames, headboards, and box springs, but they are not just in beds. They can be in chair cushions, sofas, behind electrical outlets, cracks and crevices around baseboards, behind wall paper or picture frames and in or under any clutter or objects near a bed or lounging area.
Being unique in their hiding ability and that some people sustain no adverse reaction to the bites, they can go unnoticed for a long time or until a serious infestation occurs. Once settled in, bed bugs do not like to be disturbed, so low to moderate infestations are found in areas less likely to be disturbed. Instinctively, they will seek shelter in dark cracks and crevices when they are disturbed.
Sanitation has nothing to do with whether you get them or not. Bed bugs don't care if it's clean or dirty. They prefer constant temperatures (I.e. Paper, cloth) and do not like drafty areas where there is air movement and will move from those areas. They love rough materials, unfinished wood, paper, cloth and dark areas hidden away in cracks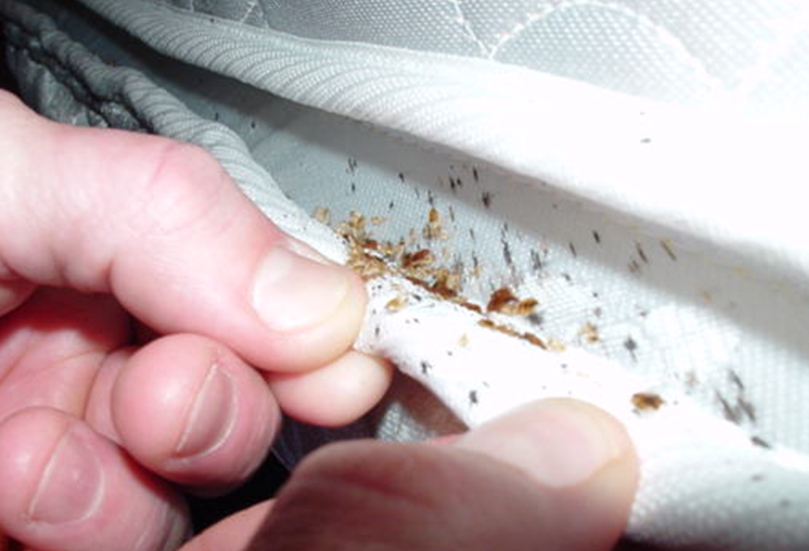 EVALUATE - SIGNS OF BED BUGS:
Multi-family home control is much more difficult than in single family homes because bed bugs frequently travel between units, either by direct human transport or through voids in the walls. There are additional costs and complexities associated with coordinating and encouraging participation from multiple residents. This means battling bed bugs is remarkably different than other bugs in cost and treatment.
Bed bugs are easier to eliminate when found from the introduction of them to discovery of them. A regular assessment and inspection routine of your unit will help you to find signs of bed bugs in the earliest of stages. People sometimes go months without realizing they have bed bugs because they don't react to bites. It is important that you develop a regular inspection where each time you clean your home and change your sheets, you search for signs.
If you have concerns and want a Free Bed Bug Inspection contact Lady Bug Pest Control Specialists. We also offer Free Home Inspection for Termites, Eco-Friendly Pest Control, Home Seal Service, Bed Bug Eco-Heat, and Rodent Control. We perform Complete Home Inspections at no charge. Please feel free to contact Lady Bug Pest Control Specialists to answer any questions or for a FREE Inspection. 480-833-1111.
Lady Bug Locations: Lady Bug Eco-Friendly Pest Control provides service Valley Wide including Mesa, Tempe, Scottsdale, Paradise Valley, Phoenix, Cave Creek, Care Free, Fountain Hills, Gilbert, Chandler, Queen Creek, San Tan, Sun City, Peoria, Buckeye, Avondale, Good Year, Glendale, Surprise, Apache Junction, Gold Canyon, Anthem, Ahwatukee, and El Mirage.

Free Bed Bug Inspections