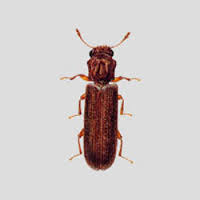 Many beetles emerge from the wood of a structure, but do not present an ongoing problem in the wood where fumigation would be necessary. When a tree dies, as all trees eventually do, it suddenly is of no further use for that forest. Of course, dead trees do provide habitat for many animals, but as far as the forest is concerned the next important step is to eliminate that tree and recycle its contents back into the soil. Once it dies a tree gives off chemical signals to insects, and very quickly it will be visited by long horned beetles, metallic wood boring beetles, horntail wood wasps, and other insects, and the female of the insect will deposit some eggs on or in the bark. I have talked with firefighters who worked on forest fires, and who said that even as some trees still were smoking they saw large wasps and beetles landing on the trunks. Obviously this recycling process starts very quickly.
There also will be many trees that are alive, but infested with bark beetles and other small beetles that eventually cause the death of the tree. Many of these restrict their feeding to the area just under the bark, but others may move more deeply into the solid wood, such as ambrosia beetles. All of these beetles, feeding in the solid wood as the larvae, may be present in the wood when the tree is harvested for lumber, and the use of dead trees for lumber is a common practice if the wood is still sound. The tree is cut down, shipped to a mill where, eventually, the bark is removed and the tree is cut into lumber. The log may reside in the lumber yard for a period of time to allow it to dry, but still milled while living beetle larvae are inside. Some of the larger long horned beetles may spend several years in their larval stage.
That lumber then may be treated in some way to further dry it out, and kiln drying will kill many of the beetles in the wood. But, obviously this is not a 100% guarantee of success, judging from the many times large beetles and wasps have burrowed their way out of wall studs and through the sheetrock or paneling covering that wall. I once visited a home that had enjoyed the emergence of at least 4 dozen of the large horntail wasps coming from the walls in nearly every room. This home was less than 2 years old, and apparently had been built with wood that was thoroughly infested with the wasp larvae. The wasps, as well as nearly all of the large beetles, simply do not infest wood already used in construction. The females deposit their eggs only on bark still on a tree.

Does the presence of these non-reinfesting insects require any control measures, much less fumigation? Generally speaking, no. The numbers of the insects will normally be very, very low, perhaps even just one or two individuals, and the amount of damage they will do in their short time in the wood will not cause any problems with structural integrity. Sometimes this may not be so cut and dry though. There is a problem with large long horned beetles. These beetles are in the genus Ergates, and the adult beetles may be 3 or more inches long. A situation that was problematic was they were emerging from an exposed beam in the ceiling that composed much of the support of that ceiling, and more than a dozen had emerged so far. A big question is then…just how many more might still be eating that wood, and whether or not fumigation even could kill them. Since the larvae may feed for 7 years and create feeding channels an inch across, it was possible that significant damage could be occurring.
Contact Lady Bug Pest Control Specialists for a Free Home Inspection for Termites, Eco-Friendly Pest Control, Home Seal Service, Bed Bug Eco-Heat, and Rodent Control. We perform Complete Home Inspections at no charge. Please feel free to contact Lady Bug Pest Control Specialists to answer any questions or for a FREE Inspection. 480-833-1111.
At Lady Bug use a variety of environmentally responsible products to control pest activity. The ECO line of products we use are all EPA approved and are made from clove oil, guava fruit, rosemary and other organic products and naturally occurring materials. They are very effective against pests when injected into the cracks and crevices at the source of where pests live and breed, yet it is inaccessible to people and pets.
Wood Boring Beetles Can be Beneficial Mesa, AZ
Lady Bug Locations: Lady Bug Eco-Friendly Pest Control provides service Valley Wide including Mesa, Tempe, Scottsdale, Paradise Valley, Phoenix, Cave Creek, Care Free, Fountain Hills, Gilbert, Chandler, Queen Creek, San Tan, Sun City, Peoria, Buckeye, Avondale, Good Year, Glendale, Surprise, Apache Junction, Gold Canyon, Anthem, Ahwatukee, and El Mirage.

Free Termite Inspections