Bed bugs are generally a problem in hotels, motels, movie theaters and other high traffic establishments, as well as residential homes. Infestations get started when a few bed bugs that have hitched a ride on belongings or even shoes, are accidentally brought into a room.

BED BUG ELIMINATION OVER NIGHT
Lady Bug Eco-Friendly Pest Control is Experienced in Bed Bug Eco Heat Treatments. We use a Heat process for individual rooms, or an entire structure. Our process is the Genuine and most effective heat treatment on the market today. Heat is a superior solution to get rid of bed bug infestations. This non-chemical, non-toxic approach penetrates wall cavities, mattresses and other hard to reach locations. Thermal pest eradication, known simply as heat, is an alternative form of pest control that involves safely raising the temperature of an affected area to a level no pest can survive.
Lady Bug has the experience, knowledge, and training that sets us miles apart from the competitions cheap and oftentimes unsafe heat service practices. We're trained, fully licensed, and insured to use the application of Heat for hotels, inns, motels, apartments and rental properties and residential structures. Another byproduct of applying heat for pest control are; oxidizing odors like tobacco and eliminating allergens.
By applying heat evenly throughout a structure we are able to kill bed bugs wherever they are hiding. Heat will kill all of the growth stages of the bed bug including the eggs. This is an important fact given that not all current pesticide control methodologies kill bed bug eggs. This means that oftentimes a Heat Treatment can eradicate the entire bed bug population in a single treatment.
ADVANTAGES OF LADY BUG ECO HEAT TREATMENT
Effective Immediately, killing eggs and adult bed bugs.
SAVES MONEY! Not necessary to dispose of mattresses and furniture.
Quick treatment times: Only 15-24 hours, from set up to tear down.
No odors from harsh chemicals and organic musty odors.
Eliminates allergens that can trigger asthma attacks and improves indoor air quality.
Removes moisture in the structures, which minimizes conditions for a bed bug's life-cycle.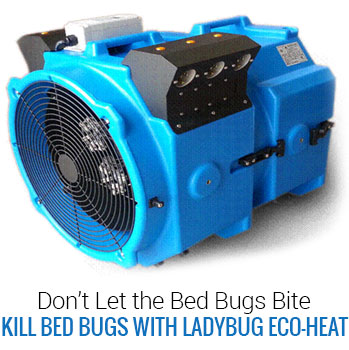 ARIZONA STATUTES RELATED TO BED BUG ACTIVITY
A landlord has the following obligations with respect to a bed bug infestation:
The landlord shall not enter into any lease agreement with a tenant for a dwelling unit that the landlord knows to have a current bed bug infestation.
Within seven business days after receiving written or electronic notice of a possible bed bug infestation from a tenant, the landlord or the landlord's licensed pest control applicator shall visually inspect the dwelling unit for bed bugs. Within seven business days after finding evidence that a bed bug infestation exists in the dwelling unit, the landlord shall start the process of mitigation of the bed bugs in the dwelling unit.
Unless the landlord is a licensed applicator, the landlord shall not use any pest control techniques that constitute mitigation and shall use for mitigation a pest control applicator who is licensed.
The landlord shall provide the tenant with written notice of the bed bug mitigation treatment protocol at least three business days before the initial treatment. Notice shall be deemed received by the tenant on the date the notice is personally delivered or mailed first class.
Unless otherwise provided in this section, the landlord is responsible for the bedbug mitigation expenses for the dwelling unit and any surrounding units that are infested
Lastly, give us a call at 480.833.1111 and receive a FREE, no-obligation quote for Bed Bug Heat Treatment in Phoenix, AZ or any other cities in the Valley.